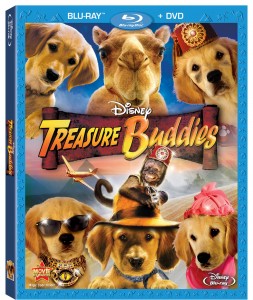 Dem Disney Buddies are at it agin! Dis time dey r diggin up treasure in Egypt in Disney's Treasure Buddies coming to Blu-Ray n DVD next week.
The Buddies are out to find da Cat's Eye jewel wot iz part of da lost treasure of Cleocatra.
But dey better watch out for da bad kitteh, Ubasti (why r kittehs all portrayed az da bad guys in movies?) Go to da Disney Buddies  website for more informations.
Check out da whole press release here den enter urself in da contest below — open to US Residents only (sawry werld it iz a region 1 DVD affer all). Contest ends February 5, 2012 so hurry up and enters!
All-New Movie Premiering On Blu-ray™ Combo Pack, DVD and Digital on January 31, 2012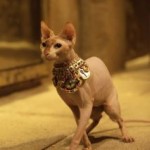 Burbank, Calif., November 4, 2011 – On January 31, 2012, The Walt Disney Studios proudly unleashes Treasure Buddies, an all-new live action feature for the whole family on Blu-ray™, DVD and Digital. The 6th film in the Buddies franchise stars everyone's favorite talking canine superstars Rosebud, B-Dawg, Budderball, Buddha and Mudbud, as the pup pack journeys to mysterious Egypt in search of the greatest treasure known to animalkind, the legendary Cat's Eye jewel, from the! Danger lurks around every secret sphinx, cryptic crypt and puzzling pyramid as Ubasti, a devious cat, schemes to possess the mystical jewel and use its powerful energy to rid the planet of all dogs!
With help from new lovable friends Cammy, a baby camel – and a mischievous monkey named Babi – the gang and their new friends avoid booby traps, solve puzzles and explore a mysterious tomb in their most exciting and challenging adventure yet.
Treasure Buddies tail wagging adventure debuts across North America as an all-new 2-Disc Blu-ray™ Combo Pack (Blu-ray + DVD), 1-Disc DVD and Standard Definition and High Definition Digital on January 31, 2012.
Bonus Features:
DIGS: B-Dawg Edition – In this fun bonus feature, B-Dawg the hip hop happening pup gives a tour of his home to kid reporter G.
"Roam" Music Video – A re-make of The B-52s song performed by Caroline Sunshine, Kenton Duty and Adam Irigoyen from the cast of the Disney Channel hit series "Shake it Up."
Director/Producer & Cast:
Producer/director Robert Vince, the imaginative force behind the popular worldwide hits Air Buddies, Snow Buddies, Space Buddies, Santa Buddies and Spooky Buddies, creates his most fetching adventure yet with Treasure Buddies. Starring Mudbud (voice by Ty Panitz – Santa Buddies, Spooky Buddies, How to Eat Fried Worms), Rosebud (voice by G. Hannelius – Space Buddies, Snow Buddies), B-Dawg (voice by Skyler Gisondo – Santa Buddies, Space Buddies, Spooky Buddies), Budderball (voice by Nico Ghisi – Santa Buddies, Space Buddies) and Buddha (voice by Field Cate – Santa Buddies, Space Buddies), the film also stars Richard Riehlel as Thomas Howard, Mason Cook as Pete Howard, Edward Herrmann as Philip Wellington, Adam Alexi-Malle as Amir, Mo Gallini as Tarik, Christopher Maleki as Seti and Anna Primiani as Cleopatra.
About The Walt Disney Studios:
For more than 85 years, The Walt Disney Studios has been the foundation on which The Walt Disney Company (DIS: NYSE) was built. Today, the Studio brings quality movies, music and stage plays to consumers throughout the world. Feature films are released under four banners: Walt Disney Pictures, which includes Walt Disney Animation Studios and Pixar Animation Studios, Disneynature, Touchstone Pictures and Marvel. Original music and motion picture soundtracks are produced under Walt Disney Records and Hollywood Records, while Disney Theatrical Group produces and licenses live events, including Broadway theatrical productions, Disney on Ice and Disney LIVE!. For more information, please visit www.disney.com.
Disclosure: We did receive copies of da DVD to gib away in dis contest.  Warning: Dis post might just contain sum affiliate links but doz not contain peanuts, wheat, soy or egg. Iffen u r allergic to affiliate links we suggest u avoid dem.