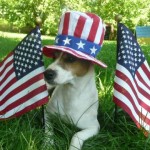 Hai ma Huntyr (aka @Kyba on twitters) iz in a contesty and himz needs ur votes. PLEEZ!!!!!!!!!!
U haz to register (but iffen ur like me u haz a throw away yahoo or gmail account for these kinda fings). It only takes a minute or two (if u fat paw da keybaird like I did mite take tree minutes MOL). Once u confirm registration via email linky u come back here n click dis widget (when u get to da site make sure dat da slideshow is turned off or it will whip past Huntyr so fast u mite vote fur wrong doggy).
U can votes five times for same doggy and u just click each time page refreshes til it tells u dat u used up all ur votes. Den come back here each day and click thru to votes agin all week long. Let's get r doggy pal to be a winner!!!