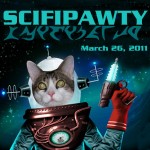 What iz SCIFIpawty? In a nutshell (cause I am a nut) it is a virtual science fiction convention held on Twitter and attended by anipals (animal + pals). The sole purpose of SCIFIpawty is to raise money and awareness for animal shelters while having a good time.
There are many pawties on twitter and you might want to attend one or two for some practice if you have never attended a pawty before.
All you need to join in on the fun is stop by Twitter.com on the date list and search for the hashtag #SCIFIpawty and any time you want your tweet to be a part of the pawty include #SCIFIpawty in the tweet. That simple. It moves fast so you may want to use TweetGrid or HootSuite or some other app to be able to keep up with everyone and everything.
Event Date: March 28, 2015
Event Time: 11am to 11pm EST
Event Location: Twitter.com
Event Hashtag: #SCIFIpawty
Our fund raising goal is $2000 which will benefit One by One Cat Rescue in Reading, PA. The donation page will be available thru 8/3/2012  for your donations.
In 2015 we raised $1579 for One By One Cat Rescue
In 2013 we raised $2117 for One By One Cat Rescue
In 2012 we raised $1515 for One by One Cat Rescue
In 2011 we raised nearly $1700 ($200 raised offline) for One by One Cat Rescue.
In 2010 we raised almost $1100 for the Animal Rescue League of Berks County.
Need tips on how to attend a Twitter pawty? Check out PAWPAWTY.com