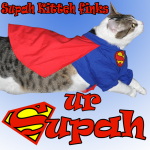 We are going to be giving this very special award out to our anipals that  have gone above and beyond and who we think are just SUPER!
We would love it if you would post your award on your site with a link back to http://www.boriskitty.com, but it is not a requirement.
Simply copy the image to your hard drive and upload to your site or blog.
The very first to receive this special honor from Boris were @cheriswan @mariodacat "fur der halp wif Graham!" CONCATS!