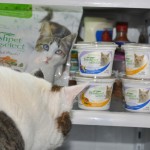 We gooted dis email askin iffen I would like to try some noms from Fresh Pet. Of course we said yes, cause when haz dis kitteh ever turned down noms? Sides dis stuff betterer for you den utter kitteh foods.
Well I gotted da nice big package rite qwik and we dug rite in. Da food is so fresh it must be refrigerated. While I like to hang out in da fridge, I haz never been a kitteh wot really like ma food cold so this would be a challenge (maybe — turns out when it is da good stuff like Fresh Pet Select I will eat it cold).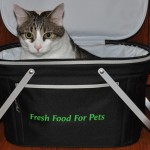 Ma humanz had herd of Fresh Pet Select before but thought it wuz only for dogs (cause dat iz all dey ever saw it for). We were pleasantly surprised that they do indeed make cat food too!
We gotted a bag of the Roasted Meals for cats and it wuz like a bag of tiny lil meaty meatballs wif a few veggies in it. (See manufacturers site for complete list of ingredients). Three out of four of us kittehs nommed dem all up!
We also gotted the three different flavors of "canned" cat food. It not in a can it in a plastic cup. Da food had a nice gravy and chunks of meats and veggies.
Chicken & Shrimp Recipe in Sauce
Turkey & Liver Recipe in Sauce
Ocean Whitefish & Salmon Recipe in Sauce
I liked all three flavors but da lil shrimps and chicken wuz ma favorite. Again three out of four kitties luv dis food (strangely three different kitties than before).
We are going to ask our pet stores to carry this food cause it wuz very nommy and da humanz did not have to worry about wot dey were feeding us. However, we do not go by the suggested serving sizes for me (Feed adult cats 1.5 containers per day per 5lbs of body weight), cause, well dat would be 7.5 containers just fur me. MOL.
Disclaimers: while da manufacturer sended me da noms to try all da werds in dis review are mines and mines alone. I liked des noms and anint no one tellin me utter wise. If I did no like dem I would hab said so (heck Tippy turned her nose up at da kibble and one of da foster monsters not liked all da container foods). So there!