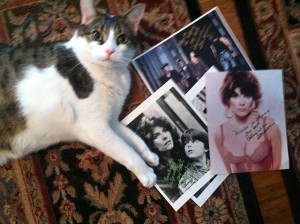 Well some of u might of alreddy seed dis pikshur (sawry it so blurry but i wuz too excited & fightin wif Human2 about takin ma pikshur). Last Caturday ma mailman shoved a big envelope thru ma mail slot. I ran to the door qwik cause I wuz hopin it wuz des pikshurs & yet I wuz hopin it not da pikshurs cause da jerk shoved dem thru ma mail slot!
Well we ripped da envelope open and inside were four pawsum signed photos from Adrienne Barbeau. Herz pawtographed dem wif "Thanks for Helping" Above her signature. How cool iz dat!
Well I did set H2 rite to werk gettin all our pawtographed items up on ebay in our SCIFIpawty Autograph "room". I will be puttin dis up on SCIFIpawty.com too, but wanted u all to seed it first.
Just look at all these pawsum fings to halp raise moneys for da kittehs at One by One!
Please be sure to follow @abarbeau @janewiedlin @whskr @scifislacker and send dem a thank u tweet for donatin all this great signed items to halp da kittehs.
@boriskitty @whskr @abarbeau You are always most welcome, kitteh! #IHeartBoris

— Jane Wiedlin (@janewiedlin) March 19, 2013