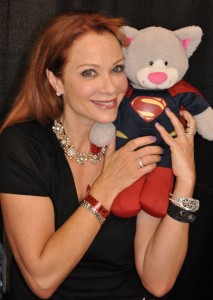 Last year at SCIFIpawty we started our first every virtual autograph room for our virtual science fiction convention, aka SCIFIpawty. Da auctions brought in quite a bit of extra moneys above and beyond da regular donations for our charity, One by One Cat Rescue.
And dis year is gearing up to be even betterer den last year. (Last year we had signed Go-go's cds, autographed photos from Adrienne Barbeau and Hobbit posters signed at the New Zealand world movie premiere all donated from the stars and our pals online. Ma human even dipped into herz personal autograph collection to offer up some great signed photos too!)
This year we have some more items donated from famous TV and movie stars like Adrienne Barbeau, Jane Wiedlin, Holly Marie Combs, Gina Torres and Lauren Holly! We got the items from Holly Marie Combs, Gina Torres and Lauren Holly all signed in person at the Philadelphia Comic Con. These great ladies are beary pawsum for halpin out our lil charity event!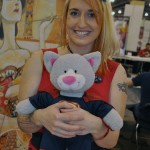 We also got so very neat artist prints from da super sweet Sara Richard. You are gonna wanna bid on herz stuff seriously cool art.
Once again Human2 digged deep into the recesses of herz autographs collection to offer up some beary pawsum Star Trek, Babylon 5, Crusade, Firefly, Cleopatra 2525, Hercules, Xena, comics and so much more! We hope to push our donations dis year well above the $2500 goal!
 We gots autographs from William Shatner, Leonard Nimoy, Gates McFadden, Robert Picardo, James Darren and loads more! Hurry a few items have already sold and all unsold auctions will be relisted!
CHECK OUT ALL OUR AWESOME AUTOGRAPHED ITEMS AVAILABLE NOW TO HELP SUPPORT ONE BY ONE CAT RESCUE