This Christmas, It's All About Puppy Love! And even us kittehs lub puppies!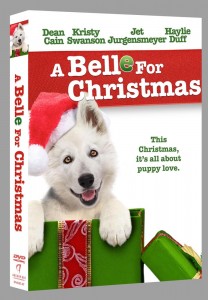 Check out the holiday DVD release of [amazon_link id="B00NARLSX8″ target="_blank" ]A Belle for Christmas[/amazon_link], starring Dean Cain, Kristy Swanson, Jet Jurgensmeyer and Haylie Duff.
Just in time for the holidays, Anchor Bay Entertainment brings home A Belle for Christmas, an uplifting comedy about family, friendship and a four-legged holiday miracle. The film, starring Dean Cain (The Dog Who Saved the Holidays, "Lois & Clark: The New Adventures of Superman"), Kristy Swanson (Big Daddy, Buffy the Vampire Slayer), Jet Jurgensmeyer (The Little Rascals Save the Day), and Haylie Duff (Material Girls,), will be making it's national retail debut on November 4, 2014. A Belle for Christmas is priced to own at $19.98 SRP.
Dean Cain stars as Glenn Barrows, a recent widower doing his best to raise his young kids Elliot (Jet Jurgensmeyer) and Phoebe (Meyrick Murphy) who really miss their mom. When the Barrows adopt an adorable puppy named Belle during the holiday season, it seems that their healing may have begun. But will Glen's dog-hating, gold-digging new girlfriend (Kristy Swanson) spoil their newfound happiness, or can Elliott and Phoebe pull off a daring Christmas Eve rescue of their beloved new pet? Haylie Duff co-stars in this fun-filled furry family comedy that will warm hearts just in time for the holidays.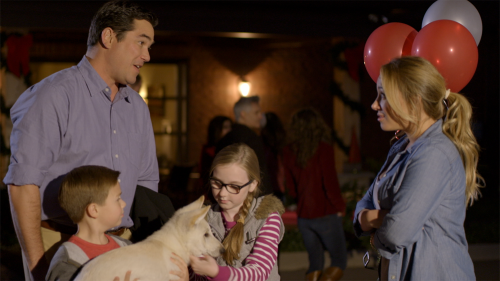 But wait! Dis post just got nommier. Here are two recipes for making nommy dog treats and a nom nom nomilicious doggy dinner from Haylie Duff.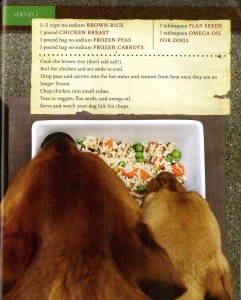 Haylie Duff's Baked Dog Treats Recipe
(requires adobe PDF viewer to read dem)
Plus enter now for a chance to win a copy of dis great holiday movie!