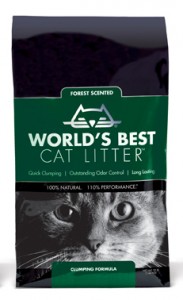 Forest Scented Clumping Formula – Made with a blend of 100% natural wood fibers, this clumping formula is ideal for cat owners who prefer a fresh forest scent.
We got some of dis to try and we all (humanz included fink it da best scent from WBCL yet!)
You can enter below to wins sum to try for urselfs too! (just remember u wanna mix it into current litter slowly do no wanna shock ur kittehs wif a brand new litter all at one time!)
Dis contest iz open to US residents only (sawry but it heavy to sendin dis pawsum litter out to utter countries). Each winner (der will be 5 winners) will get 2 6-lb bags of Forest Scented Clumping Formula to give it a good try on ur cats. I bets u will fall in lub wif it.
Da odds r ever in ur favor (guess where dat quote from). So gets ur entries in NOW.
Contest ends April 17th (just could not bring maself to do it on tax day MOL).
Forest Scented Clumping Formula is different from other wood-based litters because it combines the naturally absorbency of whole-kernel corn with the gentle scent of 100% natural wood fibers. The new formula is planet-friendly because the kiln-dried wood fibers are made of re-purposed tree shavings that might have otherwise gone to waste. Be Among the First To Try This New Product!