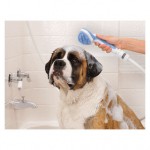 We anipals needs to be showered wif prezzies when we are forced to takes a bath. Cause takin a baf iz no funs at all! So I thoughted I would habe a way cool contesty to gib away a brand new never afore seen Bamboo Pet Shower Massager.
It iz a pawfect way to rid u doggies of dat loverly stink u gets from too much playin & habbin a grand ole doggy time of it.
Okai so how we gonna do dis here contesty? Ez enuffs! U just needs a funny, goofy, silly or just plain photo of u (dat iz anipals not peeples) takin a bath or pikshur of WHY u needs to takes a bath. Upload dat photo to facebook, flickr, photobucket, ur bloggy, twitpic, etc…anywhere so u can posts a links under da comments of dis post. We will den go grab u images for da next round of  da contest (everyone will comes back here to votes by leaving ur pikshur comments).
So for da first round go takes a pikshur of bath time or u at ur dirtiest, upload it and post it here no later den Midnight EST April 30, 2010.
You could be da winner of dis cool bathy pet show massager fingy made Bamboo and donated to us by DogToys.com!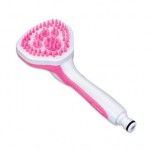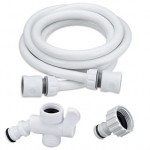 Let da fun begin!