I been finkin I can tweet, tweet, tweet til ma lil paw paws hurts or I can get ma pals to halp wif promotions. And wot betterer way to motivates den wif a giveaway.
Well it not just any old giveaway no way. You can wins a way cool SCIFIpawty Mug wif ma cute snoot on it.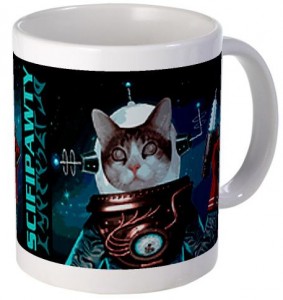 By now you guys should be familiar wif Rafflecopter and how dey werks. All you hab to do is TWEET. Ok so you can comment on dis bloggy for a point or like ma facebook pages or follow me (but u should alreddy be doin dat alreddy no? Please keep in mind dat dis is all for charity so iffen you could please consider donating (or donating agin during dis contest if you alreddy gibbed) cause ur donations over $5 will count az 25 entries!
Den when you dun wif dat come back here and just paste the tweet/facebook URL into da form below. Eazy Peezy Lemon Sqweezy!
Dis contest iz all about tweeting to promote my event you can get lots of entries by tweetin ur heart out every day!
Pwize will be ordered from CafePress.com and shipped directly to da winner (unless dey dunt ship to your country fur sum strange reason).