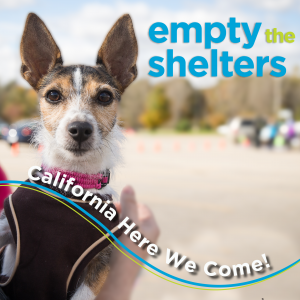 Exciting news! #EmptyTheShelters is back and headed to the West coast! BISSELL Pet Foundation will cover the cost of adoption fees on March 18 at over 20 shelters in California. We can hardly wait!
At BISSELL Pet Foundation, our ultimate goal is to help every pet find a loving home, so adoption is central to our mission. The screening protocol is the same as any other day to ensure the pets will be cared for properly. Each adopter will receive a packet full of useful information including coupons, 30 days of free pet insurance and a wellness booklet. Additionally, a "Gotcha Day" certificate will forever commemorate the special day adopters took home their new best friend.
To see a list of participating shelters and to view adoption requirements, visit www.bissellpetfoundation.org.
Participating Shelters:
Alameda Animal Shelter
Berkeley Humane Society
Butte Humane Society
Contra Costa Humane Society
Four Paws to Love
Green Dog Rescue Project
Haven Humane Society
Hayward Animal Shelter
Humane Society of the North Bay
Island Cat Resources and Adoption
Napa County Animal Shelter
Northern California Sled Dog Rescue
Oakland Animal Services
Pets In Need
Sacramento SPCA
Sonoma County Animal Services
Sonoma Humane Society
The SPCA for Monterey County
Umbrella of Hope Rescue
Wonder Dog Rescue
Share with your friends, family, volunteers and community to help them find homes for as many pets as possible!