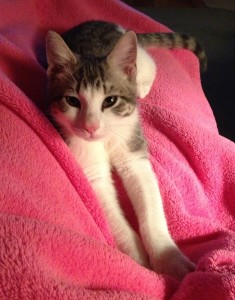 OMC remember dat sweet lil Peanut ma pal rescued afore Christmas? Well herz gotted a beary lubbin furever home and her new human haz sended me an update on hers.
Peanut is doing great.  A little over 3 months old now and getting big.  She loves her sisters and playing and sleeping in the bathroom sink!  LOL  Our 14 year old has been playing lately, she has brought lots of energy and love to our home.
I am so beary happy dat herz not only gotted a forever home but sounds likes hers gotted a GREAT forever home. Look at des utter pikshurs of her fitting right in and gettin big and being lubbed.
I great BIG fank u goes out to da folks at One By One for taking Peanut in and posting her story on facebook so her new human could find her & adopts her so quickly. Peanuts story wuz a true Christmas miracle.