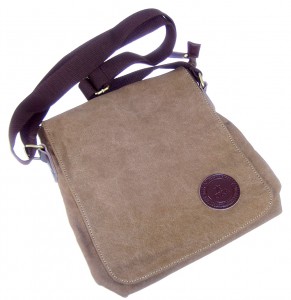 Not sure why but I fink Human2 iz addicted to bags. Every time herz sees one herz finks herz gotta hab it. Fank goodness we got asked to do a review on dis particular bag and it did not costin her a fing. Dat being sed be sure to read my disclaimer at the end of this here review.
I will hab to say that this here bag is really, really comfy. Granted it was still empty but I found it and I laid on it for hours. Human2 moved it and I found it again and laid on it again. I like to try and get in bags but this one is a little small for my large frame. MOL (sorry herz wasn't fast enough to catch me with her camera).
H2 likes the bag is has enough room in the large central compartment for her to carry wot ever herz needs. Like her EpiPen, checkbook, glasses, wallet, keys and even a bottle or two of water. There is a zipper pocket in the back that is very convenient for her cell phone.
It is made from a nice, heavy canvas material and feels like it will hold up to most of her abuse and maybe even a little of my own.
The shoulder strap is long enough so herz can wear it cross her body like she do or adjust it to hang over one shoulder (like that will ever happen).
The OXA Small Durable Canvas Shoulder Messenger bag is available at Amazon.com.
---
Disclaimer: We got this product for free in exchange for the honest review posted above. Fanks u.