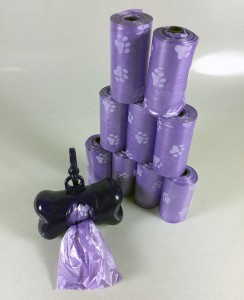 Yes, I wanna talk about poop cause everybody does it. But dogs and kitties rely on humans to clean up our poop whether it is in the house or outside. The poop has to go. That's why poop bags were invented after all. And said waste bags are a better solution than recycled store bags (which we have found often have holes in them from their initial use of bringing something home from the store. And who wants to walk around the block with a bag of waste with holes in it? Not me!
Waste bags are also really good for cleaning out the cat box too. Even though most disposable waste bags like these come in dog-themed portable carriers. Even so it is a handy way to dispense the bags, scoop the poop and throw it away without tracking litter (or worse) through the house.
So whether you are a dog owner or a slave to a cat you'll find that these bags are tops.
Easy to refill, easy to dispense and remove waste all in a fun stylish package. Available in four fun colors with matching bone-shaped dispensers and paw print design bags.
We will have more on poop bags in a later post too. So keep your eyes peeled and subscribe to our post updates.
---
Disclaimer: I was given this product for free and/or at a discount in exchange for my honest review which you have just read.
This review can also be found here: http://amzn.to/1kIC3vZ