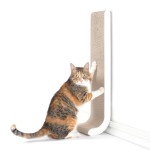 Different cats will scratch differently and this scratcher can accommodate just about any of them. While it is designed to be place vertically on a wall (includes adorable cat shaped self-adhesive hooks), it can also be laid flat or flipped over for a slightly inclined scratcher.
Made of sturdy cardboard that will keep the busy scratch monsters happy for awhile.
Available at: http://amzn.to/1muLe3D
While I know the sisfur monsters would lub dis and we don't have to put it on a wall (Human1 won't let us because it is to close to antiques or might hurt the paint on her walls…even though we have 3M Command strips to help with removal she still said no), so we will donate this to One by One Cat rescue and some very deserving kitteh will get to love it!
---
Disclaimer: We got this on the cheap (at a discount) for writing up with honest review.