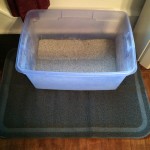 This is a very nice litter catching mat. It was a good size to cover the area in front and around my box. We have been using a plastic storage box instead of a standard litter box as our cats (the sisfur monsters) tend to scratch and cover like little crazy kitties.
Soft mat still caught the litter but was better on soft paws and bare feet than other mats we have used.
Only draw back was one of the cats (dat would be Piper aka Da Destroyer) felt the need to pee on the mat instead of the box, but the mat was super easy to clean and we are hoping it was just the odd packaging smell and won't be repeated now that it is clean. She has not repeated it anywhere else so we know she isn't sick.
---
I was given this mat for free and/or at a discount for my honest review seen above.
Available at Amazon.com