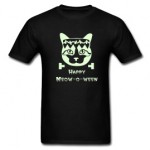 Now u can wear a Franken-Boris-O-Lantern wherever you go.
I made dem cool shirts ovah at Spreadshirt. We likes dem cause u can use vector files and have cool print options like ma glow in da dark Franken-Boris shirt.
Besides ma pawsum shirt u can even make ur own simply by choosing an image from hundreds of available designs or upload your own, add text make it ur own creations. I made dis cool Keeps Calm n Purr shirt (wif skeery scratches down da front (n da scratches r fuzzy). It iz not very expensive and it iz lots of fun.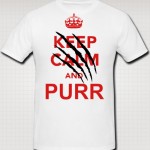 Check out Spreadshirt for your t-shirt printing needs.
Use coupon code TENYEARS between September 18th-27th and save $10 0ff $50.