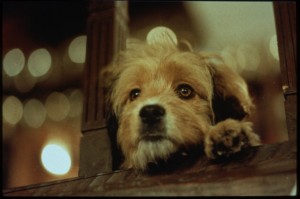 I gotted dis press release bout how Walden Media iz lookin to cast da next Benji movie and der habbin open casting calls right now on facebook.
WOW. Mehbe ur doggy could be da next Benji.
I finks it would be pawsum iffen Benji wuz one of ma doggy pals or anutter sweet shelter doggy like da original. But really dunt u finks dey should rewrite dis movie to include Benji's bestest bud — BORIS KITTY???
WALDEN MEDIA ANNOUNCES GLOBAL ONLINE CASTING CALL FOR CANINE STAR OF NEW 'BENJI' MOVIE
Dog Owners and Shelter Staff are Invited to Post Pictures of their Benji Lookalikes on a Special Facebook Page for a Chance to Land their Pet the Role of a Lifetime
LOS ANGELES, CALIF., May 29, 2012—Walden Media, producer of the upcoming [amazon_link id="B000QGE83S" target="_blank" ]Benji[/amazon_link] feature film, is using the power of social media to help cast a leading mutt to star in the movie's title role. Walden (the Chronicles of Narnia series) is teaming with writer-director-producer Brandon Camp (Love Happens) on a contemporary reboot of the wildly successful film franchise. The company has set up a special Facebook page (http://www.facebook.com/benjithemovie) where pet owners and shelter staff can post pictures and videos of pooches they believe have the right stuff to portray the iconic, loveably scruffy pup.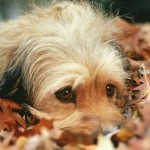 "Benji is a special dog who has won over the hearts of millions of moviegoers with a unique combination of adorably shaggy appearance, astounding intelligence and irresistible personality," says Camp, who is updating the franchise started by his father, Benji creator Joe Camp, Jr. in 1974. "Finding the right dog to play him is an essential element of making this movie, so we're casting a wide net and leaving no stone unturned. That includes using social media to reach dog-owners who might have a perfect Benji of their own at home."
In the days of the [amazon_link id="B006IRQTYU" target="_blank" ]original Benji[/amazon_link] search, Facebook and social media didn't exist and Benji was "discovered" in a shelter in California. To celebrate the efforts of our shelters nationwide, in addition to the Facebook search, the filmmakers will also be scouring animal shelters as well as traditional animal talent agencies and trainers for dogs that have the looks, onscreen charisma and ability to take direction required to step into the film's starring role.
Assisting director Brandon Camp in the search for the new Benji is renowned Animal Trainer, Mark Forbes. Mark is with Birds & Animals Unlimited and is used to searching high and low for just the right animal – from Marley and Me to We Bought a Zoo Mark knows exactly what Brandon Camp has in mind for the perfect Benji.
"Brandon and I attended the Best Friends Animal Society's Super Adoption event in Los Angeles where we looked at hundreds of dogs in search of the new Benji, we plan on continuing our search as we visit shelters throughout the country," said Mark Forbes. We're really looking forward to seeing all the Benji photo submissions on Facebook because we know the next new Benji is somewhere out there."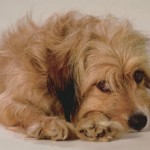 The role of Benji was originated by Higgins, a then 14-year-old mutt who also played "Dog" in 163 episodes of the hit 1960s television series "[amazon_link id="B0009NZMYC" target="_blank" ]Petticoat Junction[/amazon_link]." Over the years, several other dogs of both genders have portrayed Benji in film and on television.
About Benji
One of the biggest success stories of independent American cinema, the original 1974 Benji tells the story of a homeless but beloved small-town stray who, together with a female companion, helps to foil a kidnapping. The film was written, produced, financed and directed by commercial director Joe Camp, Jr., for less than $100,000. Unable to find a distributor among the Hollywood studios, Joe and wife Carolyn Camp released the G-rated film themselves, starting with a two-screen engagement in Dallas. Benji instantly connected with moviegoers, and eventually became a worldwide hit, spawning a franchise that included four sequels, numerous television specials, a Saturday morning series, a syndicated comic strip and a multitude of merchandising deals. Over 73 million people—more than half of them adults—saw Benji in movie theatres and more than a billion people worldwide have seen it on television. The franchise remains hugely successful to this day, selling millions of DVDs in the past few years alone.
About Walden Media
Walden's most recent co-production, Journey 2: The Mysterious Island, grossed over $300 million worldwide. Upcoming films include Won't Back Down, Of Men and Mavericks and the family comedy Parental Guidance. Past award-winning films include The Chronicles of Narnia series, Journey to the Center of the Earth, Nim's Island, Charlotte's Web and the Sundance Audience Prize Winning documentary, Waiting for 'Superman.'
Disclaimer: Benji did not pay me to do this post but I did stick in a few Amazon links to inform of da great [amazon_link id="B001JSCMM6″ target="_blank" ]classic BENJI films[/amazon_link] n iffen u can no figger out dat dey r affiliate links den mehbe u should stay off da interwebs.