Any hairball that comes off of me iz famouse, but in celebration of Hairball Awareness Day we kittehs pulled togetter wif [amazon_link id="B0040QS3PO" target="_blank" ]FURminator[/amazon_link] to create sum really pawsum famouse hairballs! It wuz such a red carpet event dat even PeoplePets.com covered da event.
I did choosing to do Justin Beiber cause da girls fall all over him just like da monsters fall all over me.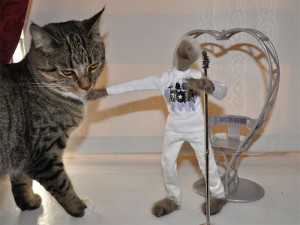 Dat would be Piper throwin herself at da hairball teen idol. MOL
Iffen you wanna seed all da cool hairball creations in one spot head ovah to da FURminator Gallery on facebook.
Or check out all da bloggies listed below. I fink you will find dem all of interest…
http://blog.embracepetcommunity.com/
http://conservationcubclub.com
http://corycattalks.blogspot.com/
http://theguidogazette.blogspot.com
http://www.anndziemianowicz.com/
http://www.coveredincathair.com
http://www.iloverescueanimals.org
http://www.jansfunnyfarm.blogspot.com
http://www.patrickmahaney.com/blog/
http://www.paws-and-effect.com
http://www.pet-health-care-gazette.com
http://www.sandyrobinsonline.com
http://www.scratchingsandsniffings.com