Ok folks SCIFIpawty will be here before u knows it! Like last year we gonna hab pwizes fur da bestest costumes so gets ur finkin caps on and try to beats last years winners!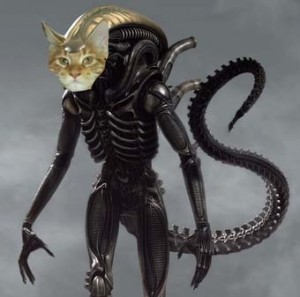 How to enters: take a pikshur of urself in a costume (akstual costume or virtual costume (see last years gallery for idears) den upload it to a photo sharing site like Twitpic.com, MobyPicture.com, Flickr.com etc and come back here and post ur entry in da comments below wif ur twitter handle and da link to ur costume pikshur. You can also tweet @BorisKitty wif ur pikshur linky and hashtag #SCIFIpawty and we will add u to da costume contest entries too!
All entries should be received before SCIFIpawty on the 24th.
Contest will be judge by a panel of judges such az Human1 and Edgar daKitty.
Pwizes will be pawsum we promise!