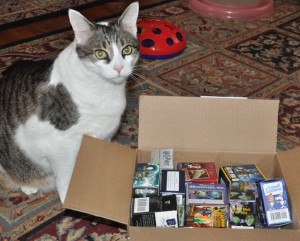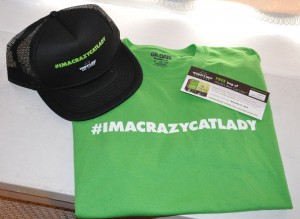 It has been a busy week here at SCIFIpawty head quarters. We go t a BIG box of wonderful prizes from our best pals and prize sponsors from day one, THINKGEEK.com (sawry I wuz too grouchy to pose dis year wif many of da goodies like in past years).
Followed up by a surprise box of goodies from Running Press (fun lil scifi/fantasy mini books & gifts). And H2 gots #IAMCRAZYCATLADY kit from World's Best Cat Litter (which it iz even if I won't use it, but I am a weird kitty) dat we are gonna donate so sum lucky inner gonna gets a cool hat, tee and 4 (yup u heard me rite, FOUR) coupons for free bags of kitty litter. Dat should keeps u pooping and da humanz scooping!
This is just a taste of some of the goodies. Keep your eyes peeled to our pinterest page for the latest in 2014 SCIFIpawty prizes.